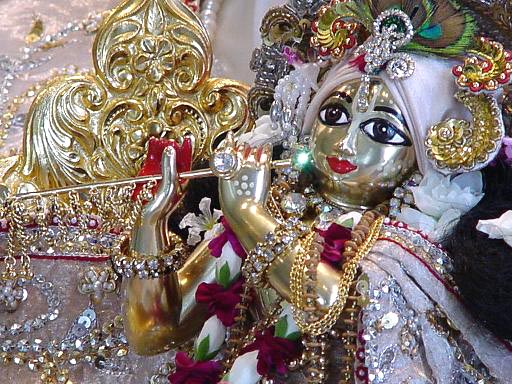 "The supreme abode of the Personality of Godhead, Krsna, is described in the Brahma-samhita as cintamani-dhama, a place where all desires are fulfilled. The supreme abode of Lord Krsna known as Goloka Vrndavana is full of palaces made of touchstone. There are also trees which are called "desire trees" that supply any type of eatable upon demand, and there are cows known as

surabhi cows which supply a limitless supply of milk. In this abode the Lord is served by hundreds of thousands of goddesses of fortune (Laksmis), and He is called Govinda, the primal Lord and the cause of all causes. The Lord is accustomed to blow His flute(venum kvanantam). His transcendental form is the most attractive in all the worlds -- His eyes are like the lotus petals and the color of His body like clouds. He is so attractive that His beauty excels that of thousands of cupids."

.

(Bhagavad-gita As It Is, 8.21, Purport)

* Special thanks to Krsna Chandra Devi Dasi of Ontario, Canada for all the beautiful Deity photos from Radhadesh.

.

.

Lord Sri Krsna

Radhadesh, Chateau de Petite Somme, Belgium