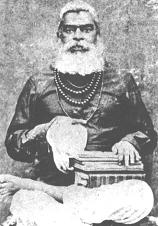 Srila Bhaktivinoda Thakura sent his book, Lord Caitanya: His Life and Precepts to McGill University in Montreal, Canada in 1896, the same year that Prabhupada took birth in this world. Srila Prabhupada considered this to be a significant event and later on dedicated his own book, Teachings of Lord Caitanya, as follows:

.

DEDICATED TO

The Sacred Service

of

SRILA SACCIDANANDA BHAKTIVINODA THAKURA

Who Initiated The Teachings of Lord Caitanya

in

The Western World

(McGill University, Canada)

in 1896

The Year of My Birth

A.C. BHAKTIVEDANTA SWAMI

.

.

THE PRABHUPADA CONNECTION

.

Photo Album (#128)

_________________