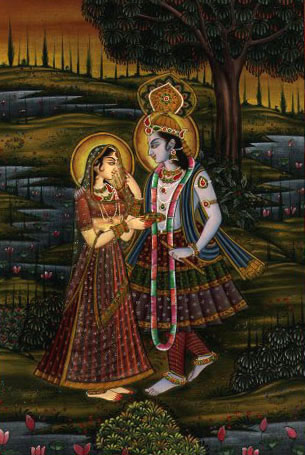 (Radha-Krsna, the Divine Couple)

"Ordinary persons cannot understand how the Supreme Lord is situated in everyone's heart, but a devotee can actually see Him. Not only can the devotee see Him outwardly, but he can see, with spiritual vision, that everything is resting in the Supreme Personality of Godhead, as described in Bhagavad-gita (mat-sthani sarva-bhutani). That is the vision of a maha-bhagavata. He sees everything others see, but instead of seeing merely the trees, the mountains, the cities or the sky, he sees only his worshipable Supreme Personality of Godhead in everything because everything is resting in Him only. This is the vision of the maha-bhagavata. In summary, a maha-bhagavata, a highly elevated pure devotee, sees the Lord everywhere, as well as within the heart of everyone. This is possible for devotees who have developed elevated devotional service to the Lord. As stated in the Brahma-samhita, (5.38), premanjana-cchurita-bhakti-vilocanena: only those who have smeared their eyes with the ointment of love of Godhead can see everywhere the Supreme Lord face to face; it is not possible by imagination or so-called meditation."

(Srimad-Bhagavatam, 4.12.12, Purport)

.

.

THE PRABHUPADA CONNECTION

.

Photo Album (#236)

_________________