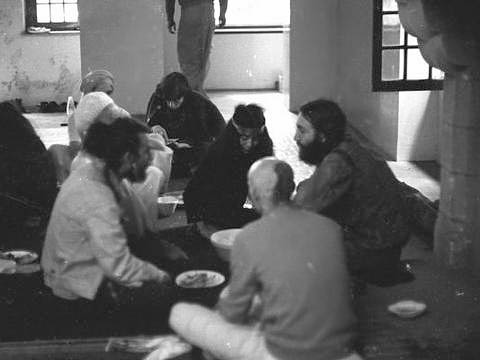 "I know that both you and John are very good souls. Both of you are pledged to do something for the peace of the world. By the grace of Krsna, you have already realized to some extent about the necessity and importance of Hare Krsna movement in the world. Similarly, if John also does so, it will be a great event.

"John and his wife were very kind upon me when I was staying at Tittenhurst Park as their guests. I always prayed for them to Krsna for understanding this great movement. Please inform him this message on my behalf. I have dreamt something very nice about John which I shall disclose in proper time. In the meantime, please ask him to cooperate with this movement as you are doing, and he will be very happy."

(Srila Prabhupada letter to George Harrison, 16th February, 1970)

.

.

THE PRABHUPADA CONNECTION

.

Photo Album (#292)

_________________

George Harrison, John Lennon, Patti Boyd, Yoko Ono and devotees

enjoying prasadam at John Lennon's Tiittenhurst Park estate, 1969