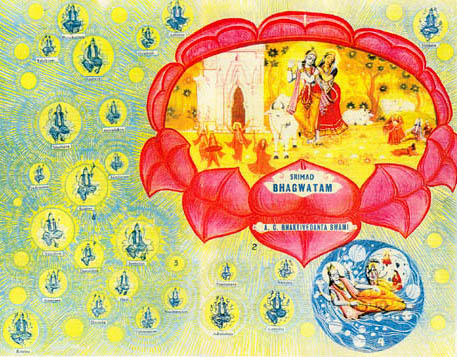 SRIMAD BHAGAVATAM

FIRST PART

With short life sketch of Lord Sri Caitanya Mahaprabhu the ideal Preacher of Bhagavat Dharma, Original Sanskrit Text, its Roman Transliteration, English Synonyms, English Translation and Elaborate Purport by

A.C. Bhaktivedanta Swami

1962

Published by THE LEAGUE OF DEVOTEES (Reg'd.)

Free for

The Members

Rs.16

First Published in 1962

To

Srila Prabhupada

Bhakti Siddhanta Sarasvati

Goswami Maharaja

MY SPIRITUAL MASTER

on the 26th annual ceremony of His

Disappearance Day.

He lives for ever by His Divine instructions

and

the follower lives with him.

Srimad-Bhagavatam

Srimad-Bhagavatam, Volume 1

All GLORY TO SRI GURU AND GOURANGA

_____________________________________

Krishne swadhgmo' opagate dharma jnana divi saha

kalou nastadrisham esha puranarko' dhuno dittah

(pp. 211)

SRIMAD

BHAGAVATAM

of

KRISHNA DWAIPAYANA VYAS

ENGLISH VERSION

By A.C. BHAKTIVEDANTA SWAMI

LIST OF OTHER BOOKS

(IN ENGLISH)

1) GEETOPANISAD

2) CHAITANYA CHARITAMRTA

3) SCIENCE OF DEVOTION

4) EASY JOURNEY TO OTHER PLANETS

5) PRACTICAL THEISM

6) MESSAGE OF GODHEAD

7) ISOPANISAD

8) PRAYERS OF KING KULASHEKHARA

EDITOR OF THE FORTNIGHTLY MAGAZINE

BACK - TO - GODHEAD -

and

FOUNDER SECRETARY

THE LEAGUE OF DEVOTEES (Reg'd.)

Residence:-- Sri Radha Damodar Temple

Sebakunja, Vrindaban U.P.

Office:-- Sri Radha Krishna Temple

2439, Chhipiwada Kalan

DELHI-6