"IN EVERY TOWN AND VILLAGE the chanting of the Holy Name of Krishna shall be heard. This was the forecast made by Lord Caitanya Mahaprabhu almost 500 years ago in India. Today, as the Hare Krishna Mantra -- Hare Krishna Hare Krishna Krishna Krishna Hare Hare, Hare Rama Hare Rama Rama Rama Hare Hare -- resounds in Bombay and New York, Nairobi and Sydney, and in Paris and Hong Kong, the prophecy of Lord Caitanya stands fulfilled. The universal import of this "Samkirtan Movement" (the congregational chanting of the Holy Names of the Lord) was expressed by Lord Caitanya as follows:

"Glory to the Sri Krishna Samkirtan which cleanses the heart of all the dust accumulated for years together. Thus the fire of conditional life, of repeated birth and death, is extinguished. The Samkirtan Movement is the prime benediction for humanity at large because it spreads the rays of the benediction Moon. It is the life of all transcendental knowledge, it increases the ocean of transcendental bliss, and it helps us to have a taste of the full nectar for which we are always anxious."

(Every Town & Village, album cover)

.

THE PRABHUPADA CONNECTION

.

Photo Album (#35)

________________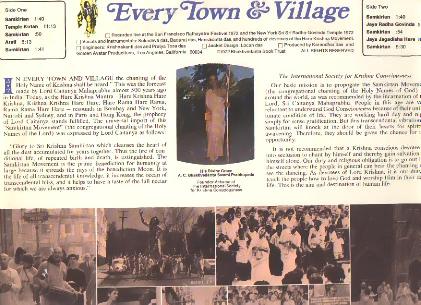 "Every Town & Village" Record Album, Golden Avatar Productions, 1972