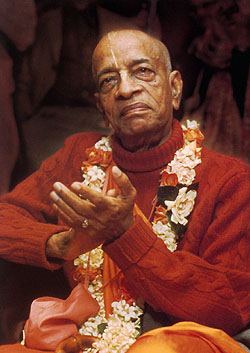 "Since God is full, a living entity who is engaged in God's service, in Krishna consciousness, becomes also full in himself. He is just like a river cleansed of all dirty water. Because a pure devotee has no thought other than Krishna, he is naturally always joyful. He does not lament for any material loss or gain because he is full in the service of the Lord. He has no desire for material enjoyment because he knows that every living entity is a fragmental part and parcel of the Supreme Lord and therefore eternally a servant. He does not see, in the material world, someone as higher and someone as lower; higher and lower positions are ephemeral, and a devotee has nothing to do with ephemeral appearances or disappearances. For him stone and gold are of equal value. This is the brahma-bhuta stage, and this stage is attained very easily by the pure devotee."

(Bhagavad-gita As It Is 18.54, Purport)

.

.

THE PRABHUPADA CONNECTION

.

Photo Album (#438)

_________________