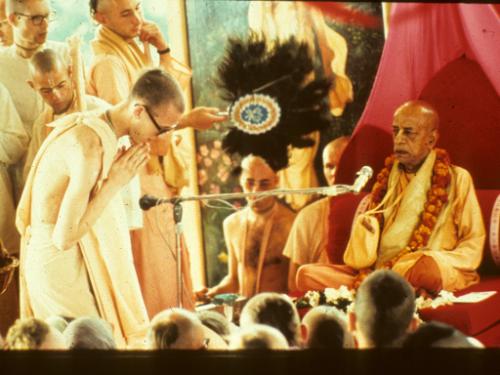 THE PRABHUPADA CONNECTION

.

Photo Album (#535)

_________________

"The point is that no one is actually qualified in this material world to approach Krsna, but if he makes the attempt through our inducing him gradually to give his energy to Krsna, by that attempt Krsna will extend his mercy and deliver the fallen soul despite his so many disqualifications. And such person or aspiring devotee, he is to be considered the most exalted of men because he has given his life to Krsna.

bahunam janmanam ante

jnanavan mam prapadyate

vasudevah sarvam iti

sa mahatma sudurlabhah

"After many births and deaths, he who is actually in knowledge surrenders to Me, knowing Me to be the cause of all causes and all that is. Such a great soul is very rare." [BG 7.19]

(Srila Prabhupada letter, December 31, 1972)

.

.