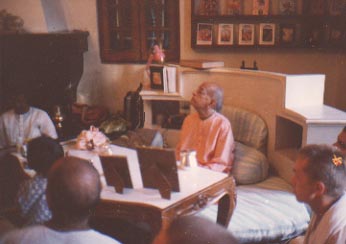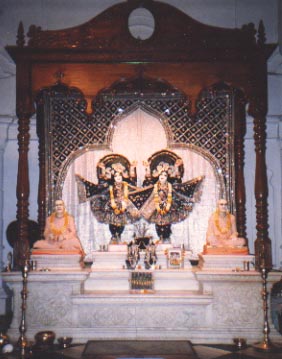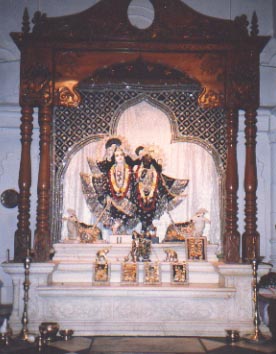 Their Lordships Sri Sri Radha-Syamasundara

Sri Lalita and Sri Visakha

Sri Sri Krsna-Balarama Mandir

Vrindavan, India.

Their Lordships Sri Sri Krsna-Balarama.

Their Lordships Sri Sri Gaura-Nitai

Srila Prabhupada and Srila Bhaktisiddhanta Sarasvati.

THE PRABHUPADA CONNECTION

.

Photo Album (#6)

________________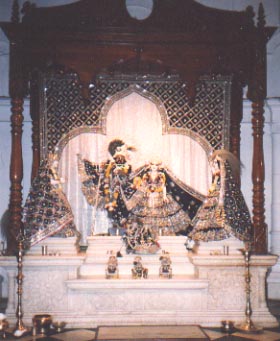 Darsan with Srila Prabhupada in his room.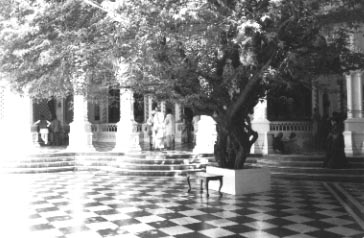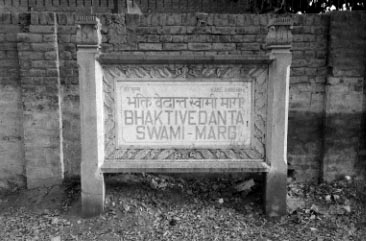 Srila Prabhupada opened the Krsna-Balarama Mandir in 1975 after much personal struggle. By his grace, devotees from all over the world have visited Vrindavan, the sacred place where Lord Krsna performed his childhood pastimes. It was here in his room (behind the Krsna-Balarama Mandir) where Srila Prabhupada left this world on November 14, 1977.

The road in front of the Krsna-Balarama Mandir has been renamed in honor of His Divine Grace A.C. Bhaktivedanta Swami Prabhupada.