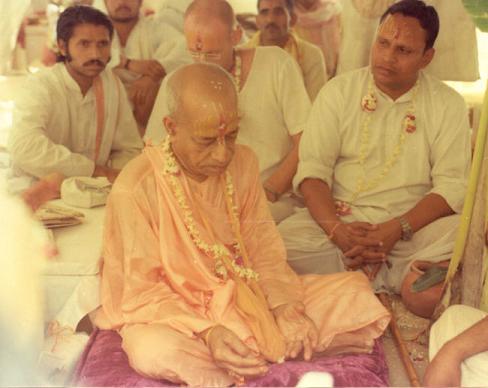 (Srila Prabhupada begins to install Sri Sri Krishna-Balarama Deities, Vrindavan, India, 1975 -- an historic occasion.)

"His Divine Grace A. C. Bhaktivedanta Swami Srila Prabhupada, Founder Acharya of the International Society for Krishna Consciousness, inaugurated the Krishna Balaram Mandir in Sri Vrindavana Dhama and installed the most beautiful Deities of Sri Sri Krishna Balaram, Sri Sri Radha Shyamasundar, Lalita Devi and Vishakha Devi and Sri Sri Gaura Nitai on 20 April 1975."

Click here
for more information about Srila Prabhupada and Vrindavan.
.

.

THE PRABHUPADA CONNECTION

.

Photo Album (#748)

_________________