THE PRABHUPADA CONNECTION

.

Causeless Mercy (#110)

_____________________

Mantra Rock Dance Revisited

_____________________________________

Srila Prabhupada went anywhere and everywhere to spread Krishna Consciousness. He was not afraid to sit down on the hot pavement in New York City or in the parks of San Francisco among the hippies and flower children of the sixties. He was absolutely fearless in his preaching on behalf of Lord Krishna and his beloved spiritual master, Srila Bhaktisiddhanta Sarasvati Thakura. He met and befriended the major countercultural heroes of the day, including Allen Ginsberg, George Harrison, John Lennon, Yoko Ono, Donovan, among many others; and he single-handedly turned on an entire generation to the chanting of Hare Krishna with his transcendental sweetness and love during the sixties and early seventies. Prabhupada fed them delicious spiritual foodstuffs offered to Krishna with pure devotion, called prasadam, or the Lord's mercy. Even Jerry Garcia of the Grateful Dead donated a brand new stove to the Haight-Ashbury Radha-Krishna temple.

The above poster (on the left) was created to help promote a dynamic and now legendary spiritual event in San Francisco in 1967. All proceeds went to help establish Srila Prabhupada's fledgling San Francisco Hare Krishna Temple. Such was Prabhupada's all-attractive spiritual potency. Speaking about the original Mantra Rock Dance in 1967, Allen Ginsberg later recalled: "We sang Hare Krishna all evening. It was absolutely great -- an open thing. It was the height of the Haight-Ashbury spiritual enthusiasm."

Forty years later, with the help of Prabhupada's spiritual followers, including Gurudas Prabhu, one of the original organizers of the first Mantra Rock Dance in 1967, a commemorative event was held at the People's Park in Berkeley, California to a resounding success, following in the footsteps of Srila Prabhupada himself. Below are some photographs highlighting this historic event.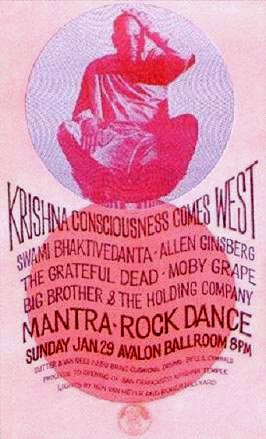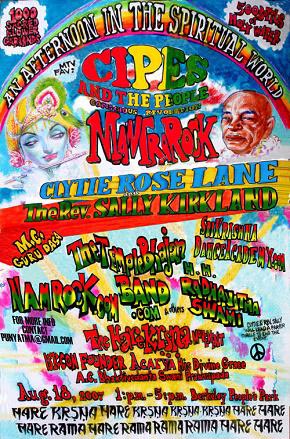 Mantra Rock Dance Poster, 1967

Mantra Rock Dance Poster, 2007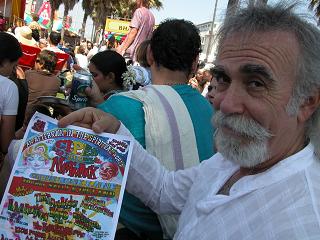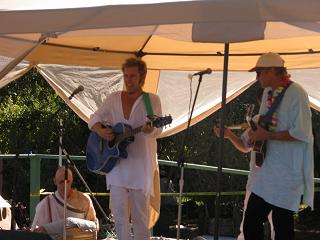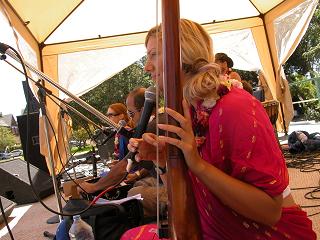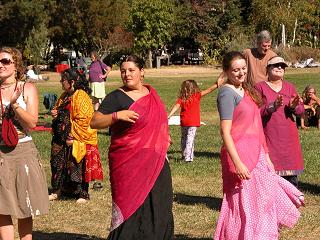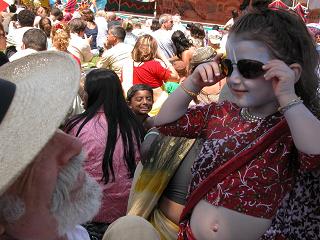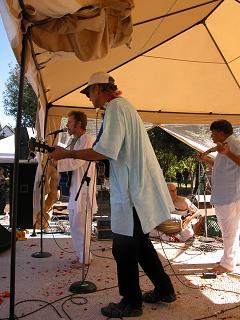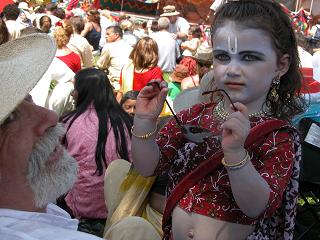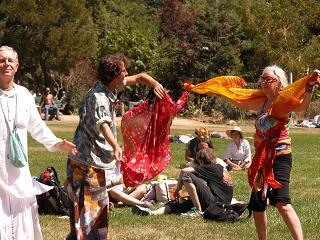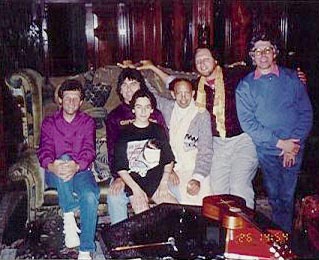 A blissful spiritual day was had by all, with special thanks to M.C. Gurudas Prabhu, as seen below (second from right) at Friar Park Manor, George Harrison's home in Oxfordshire, England.

From left: Shyamasundar; George; George's son, Dhani; Mukunda Goswami; Gurudas; and George's business manager, Derek Taylor.

The success of the 40th Anniversary of Srila Prabhupada's original Mantra Rock Dance is once again proof that Prabhupada's mission will eventually inundate the entire world, nay the entire universe, with pure love of God, or Krishna. As stated in the Srimad-Bhagavatam: "Srila Vrndavana dasa Thakura has sung that the devotees of Lord Caitanya are so powerful that each one of them can deliver a universe." (S.B. 4.24.58, Purport) And in 1975, Srila Prabhupada assured us all that "My success is always there!"

.

Click here
to read Gurudas's first-hand account of the 1967 Mantra Rock Dance in San Francisco.
.

.