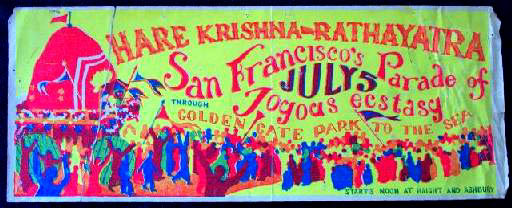 "HARE KRISHNA RATHAYATRA

San Francisco's Parade of Joyous ecstasy Through Golden Gate Park To The Sea

Starts Noon At Haight And Ashbury"

"Anyway, the devotees are coming here, and the Rathayatra Festival was performed with great pomp. More than 500 people followed theprocession to the beach, and there were about two dozen cars. They distributed thousands of chopaties, and at last Shri Jagannatha, Subhudra, and Balledev kindly came here in our house and will stay here for one week and then return."

(Srila Prabhupada letter, July 11, 1967, Bodes Paradisio, Alameda Patio, Stinson Beach, Calif.)

.

.

THE PRABHUPADA CONNECTION

.

Photo Album (#239)

_________________